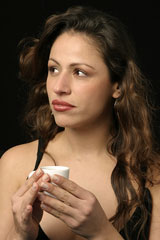 A Brazilian woman with long, brown hair holds a cup of espresso, while she looks into the distance. Her photograph is isolated on a black background. From stormy Cape Horn near Antarctica to the sunny climes of Brazil, South America has diverse offerings for just about every kind of traveler. Ski and snowboard enthusiasts can take off during the summer and hit the slopes in Chile and Argentina, where the Southern Hemisphere's winter season is underway in the Andes Mountains. People who are interested in beaches and rain forests can visit Rio de Janeiro and Brazil's Amazon region, while Santiago Chile is known for its cuisine, culture, art, and nightlife.
Search Results
---
Use the search box on this page to find information about South America.
Copyright © 2010-2022 Map-of-South-America.us.
All rights reserved.

Map of South America - Custom Search Results